Meguri on Bowen: Pop-Up at Miki Tanaka Jewelry
We are excited to announce our ITSUMO seasonal Pop Up is back, this time on Bowen Island at jewelry designer Miki Tanaka's beautiful atelier.
From August 8 – 18th, ITSUMO will be bringing a curated selection of Japanese glassware, tableware, vintage items and other household goods to Miki Tanaka's jewelry atelier/gallery located in Artisan Square on Bowen Island, BC.
* * *
MEGURI – the miracle of chance encounters
Please join us in celebrating the Summer season and a unique spiritual connection between Miki Tanaka Jewelry & ITSUMO.
ITSUMO
Lifestyle Pop Up Shop
2019. 08.08 Thu – 08.18 Sun
Open 10am – 5pm
MIKI TANAKA jewelry
585 Prometheus Place, Bowen Island, British Columbia
(lower Artisan Square)
MEGURI – the miracle of chance encounters
When the sun and moon happen to meet in the sky, a magical eclipse occurs; a special and beautiful instant in time is created by a momentary connection, a chance encounter at just the right moment between two entities following their own paths. 
This idea that chance encounters carry with them endless potential for joyful occasions, fortuitous connections and happy accidents is what led to the partnership between Miki Tanaka x ITSUMO.
About MIKI TANAKA
Miki Tanaka jewelry presents a perfect compliment to the ITSUMO philosophy of cherishing people and objects that will endure through time.
The timeless nature of her designs make each piece ideal for passing down through generations, with carefully selected raw materials delicately hand finished to the highest quality.
After 18 years in New York, where she created her line in 2001, Miki now handcrafts her elegant metal jewelry out of her studio on Bowen Island, BC.
About ITSUMO
ITSUMO lifestyle goods present a perfect compliment to the high quality and delicate craftsmanship of Miki Tanaka jewelry.
With a belief in products that are made by hand and from the heart, ITSUMO celebrates the quiet joy in daily routines with Japanese goods and crafts that become your essential tools for everyday life. Take pleasure in slowing down with items that are as beautiful as they are functional, and rediscover an essential connection to your home.
The intersection of design where harmony is found between aesthetic, function, form and ingenuity.
Read more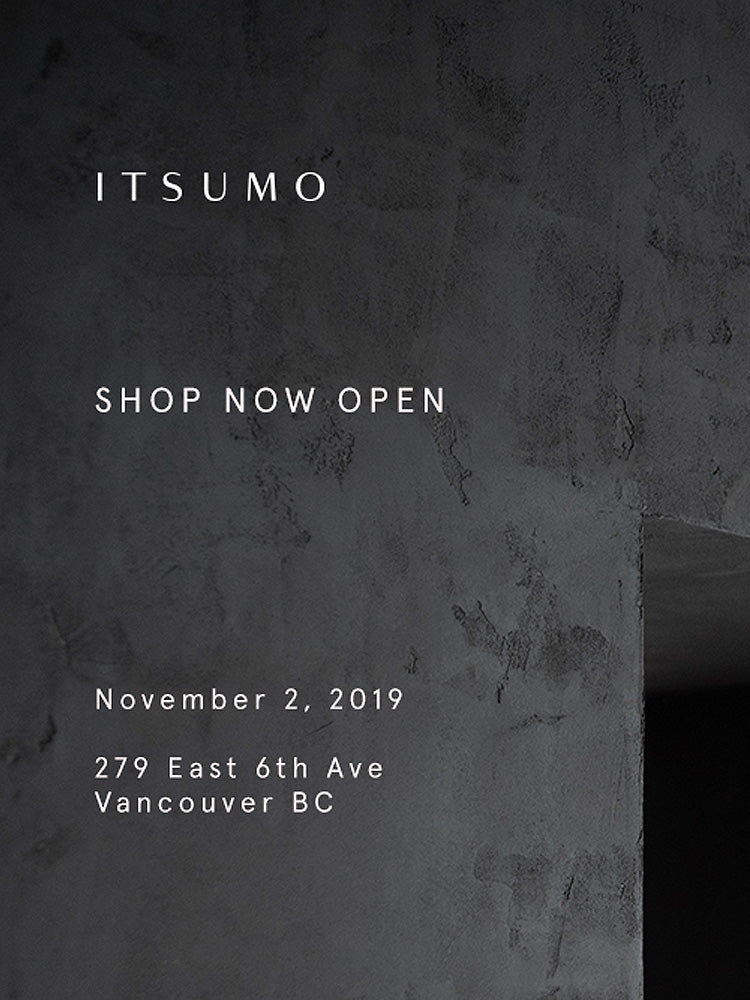 We are thrilled to share exting news. ITSUMO Shop is now open. Located at 279 East 6th Ave. Vancouver BC.
Read more